ury over abuse
Updated at
0007 GMT (0807 HKT) August 27, 2018
Dublin, Ireland (CNN) —
Delivering Mass under stormy Dublin skies, Pope Francis gave an unplanned speech on abuse to hundreds of thousands of faithful in leafy Phoenix Park and asked for forgiveness.
Just 3 miles away, down the winding River Liffey, many of those gathered for an unprecedented protest in the Garden of Remembrance said the Pontiff's words failed to address their fury over a long list of church-related abuses in Ireland.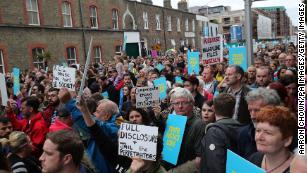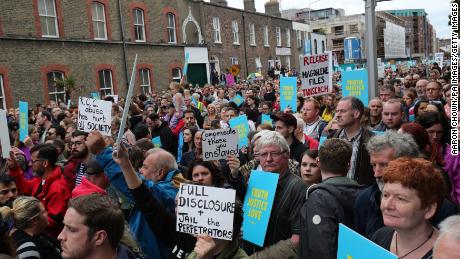 The Stand4Truth rally gathers outside a former Magdalene Laundry in Dublin as part of demonstrations against clerical abuse.
"I'm sure the Pope was sincere in his apology, but it needs to be followed up by action," said Jenny Moore-Mcgowan, 47, holding a sign that read: "Apologies are not enough."
"We can never, ever, ever have these abuses again in Ireland. The lives of people for generations were ruined, not just the people who were in the institutional schools, the
Magdalene Laundries
, the mother-and-baby homes, but their children and grandchildren. It ran right through this country like a virus."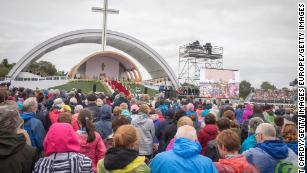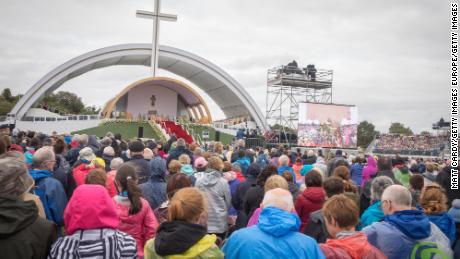 People celebrate Mass in Dublin's Phoenix Park, braving wet and windy weather.
The Pope's visit to Ireland came amid an intensifying outcry over a global clerical sex abuse crisis, following damning reports in the United States, Chile and Australia, detailing decades of institutional cover-ups. The revelations hung like a cloud over the trip, the first papal visit to the country since 1979, when Pope John Paul II was greeted here like a rock star.
In Temple Bar, a nightlife quarter packed with pubs, you wouldn't know the Pope was in town, save for a few fluttering Vatican flags and shuttered streets. At one of the few papal souvenir stands in the city center, Paul Preston said he was having trouble selling merchandise.